When Goddess Sati lost her eye at this very spot.. The Naini Lake was born…
Welcome to the Land of the Kumaons- Nainital!
When we talk about hill-stations and holiday retreats, one name that distinctly stands out is – Nainital. Nestled in the quaint Kumaon foothills, this beautiful hill retreat is a popular tourist attraction for people from Delhi/NCR and other parts of the country. While known for its gorgeous Naini Lake (from where it derives its' name) there are other places of interest that you can explore while spending a casual vacation with family and friends.
The judicial capital of Uttarakhand, Nainital, was founded in 1841 by P. Barron, a sugar trader from Shahjahanpur. The city of Nainital is built in the valley surrounding Naini Lake and is around 2 miles in circumference. The city is surrounded by mountains, Naina on the North, Deopath on the West and Ayarpatha on the South.
With gorgeous views from all parts of this hill-station, it is quite popular as a weekend getaway or short vacation spot for people around the valley.
#Trivia: It is said to have been discovered by another Britisher named G.W. Traill, before P. Barron, but he left it untouched as he believed it to be a place of sanctity.
Picnic Spots Near Nainital
The words Nainital literally translate into "Naini" meaning eye and "Tal" meaning lake- Lake of the Eye.
Zealous travellers can also go 'Yachting' that is gaining popularity amongst tourist folk here.
It is surrounded by other smaller holiday escapades namely Bhimtal, Khurptal, Naukuchiatal, and Sattal (Seven Lakes). They are popular spots for quiet holiday resorts and away from the hustle bustle of the main hill city. It gives travellers an opportunity to relax in the quietness intended by nature and also hop to the city within 15 minutes.
Places of Interest in Nainital
While visiting any hill station, one thing that does captivate your senses is the need to explore its popular places of interest. Nainital has some excellent places to visit with family and friends that will get etched in your mind forever.
Let us take a walk through the popular tourist attractions in Nainital-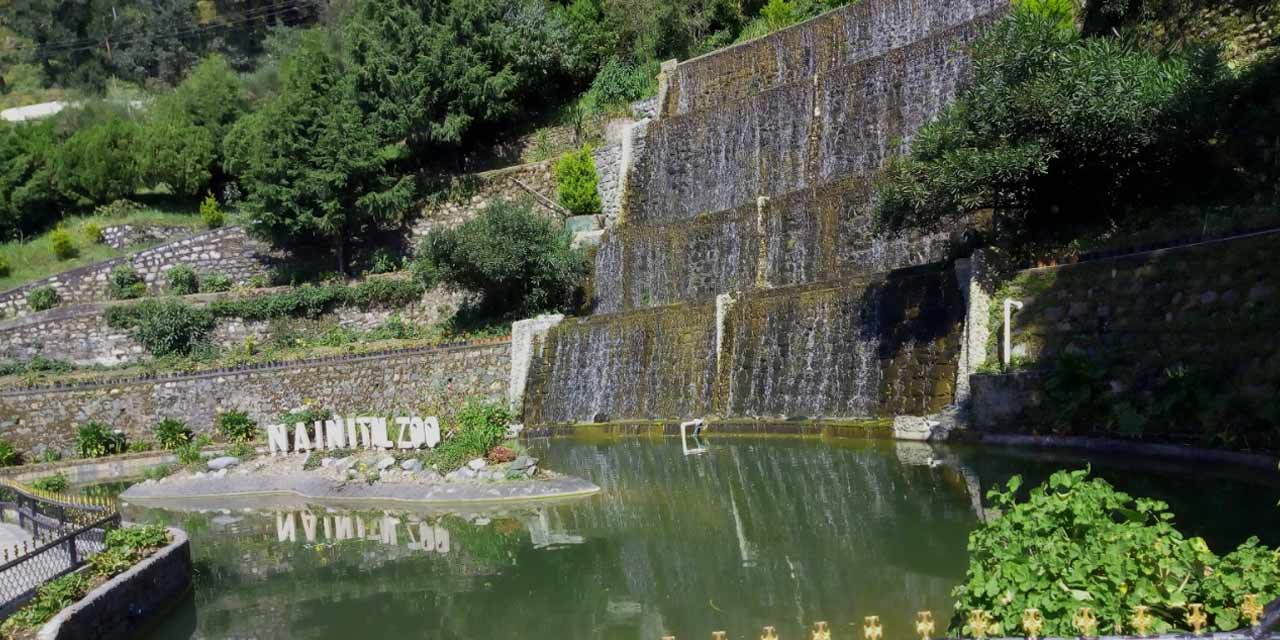 An iconic zoo that boasts of being a high-altitude zoo is also called G.B.Pant High Altitude Nainital Zoo.
It is home to various endangered and beautiful species of animals such as the Royal Bengal Tiger, Tibetan Wolves, Leopard Cat, the Himalayan bear, Japanese Macaque, Barking Deer, Sambar, etc. It also houses some popular varieties of birds viz. Hill Patridge, Steppe Eagle, White Peafowl, Red Junglefowl, Lady Amherst Pheasant, Rose-ringed parakeet, blossom headed parakeet, Kalij Pheasant, amongst others.
The zoo was established in 1984 and was opened to the general public from 1995 onwards. Spread over a good 4.6 hectares, it was officially named as Pt. Govind Ballabh Pant High Altitude Zoo in the year 2002.
#Trivia: It is one of the three high altitude zoos in India. The other two being located in Darjeeling and Sikkim.
Entry Fees-
Adult- Rs. 50
Children below 12- Rs. 20
Camera Fee- Rs. 25
Professional video camera fee- Rs. 200
Timings of the zoo- 10:00 am to 4:30 pm every day except Mondays, Diwali and Holi.
With exceptional landscapes and gorgeous bouts of greenery, the Nainital Zoo is a must-see while visiting Nainital.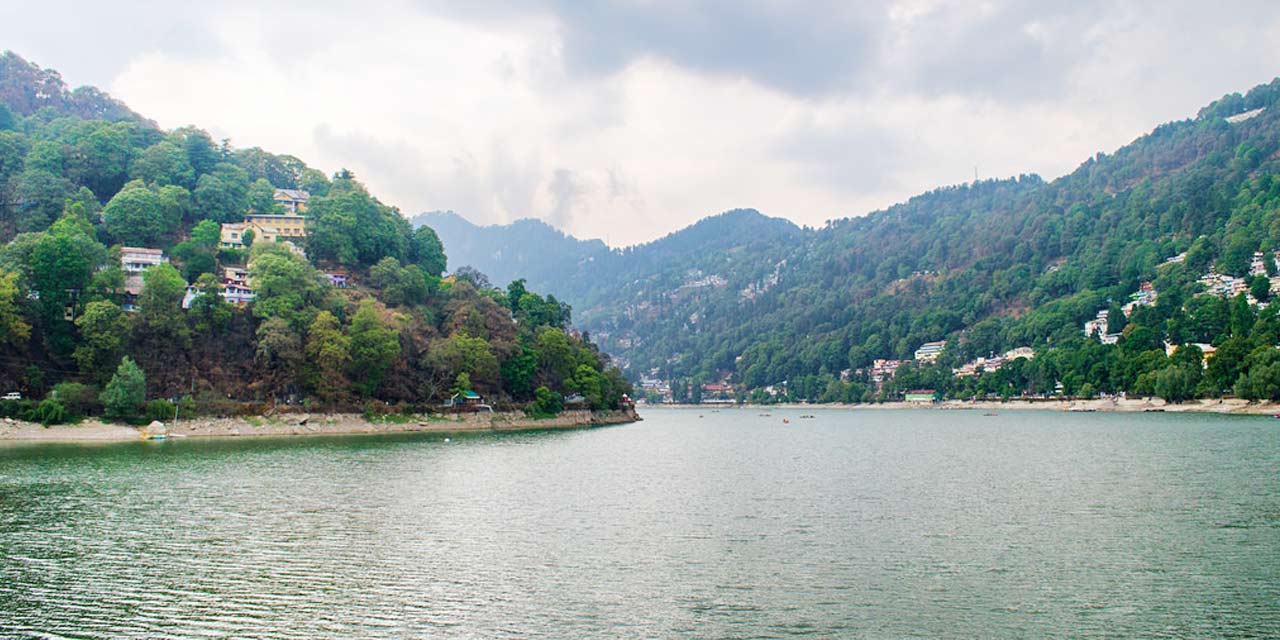 The gorgeous lake is where Nainital derives its name from. Set in the centre of the valley or the heart of the city, the lake is home to multiple tourists all year round. With options of boating, both pedal and rowing, as well as yachting, there is something in store for every tourist at this lake.
The rowing boats are available for approx. Rs. 160 for half round and Rs. 210 for full round, and the decorative Gondola boat costs approx. Rs. 210 for a round trip of the lake. The lake is open from 6 am to 6 pm every day.
Take a ride across the beautiful lake with your loved one, family and friends while visiting Nainital.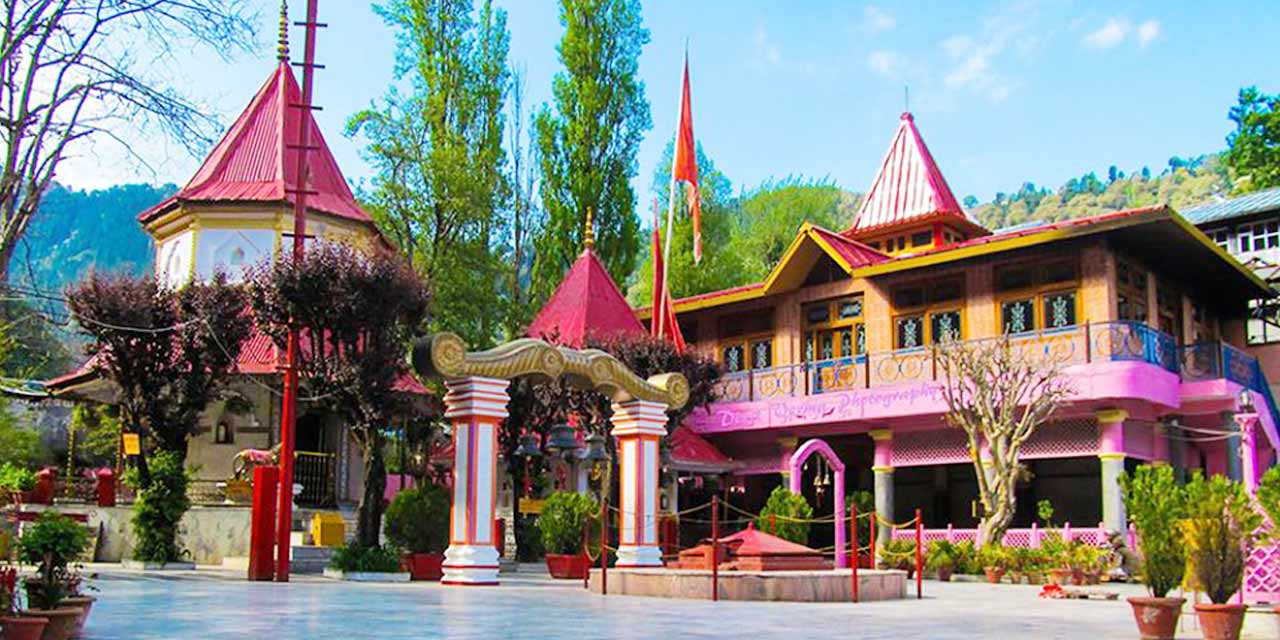 The pious temple is thronged by devotees all year round. A major prayer site of Nainital, Naina Devi temple is dedicated to Goddess Sati, wife of Lord Shiva. The turquoise blue water graces the temple and it has firmly stood ground on the hillock since 15th century AD.
It is believed that the idol inside the temple was installed by Moti Ram Shah in 1842. Despite being hit by a major landslide in 1880, the temple was rebuilt at the very site because of its auspiciousness.
The goddess at the temple is denoted by only her two eyes and devotees from far and wide come here to seek her blessings. The temple also houses the temples or figures of Lord Hanuman, Kali Mata, and Lord Ganesha.
Come and seek the blessings of the goddess while visiting Nainital.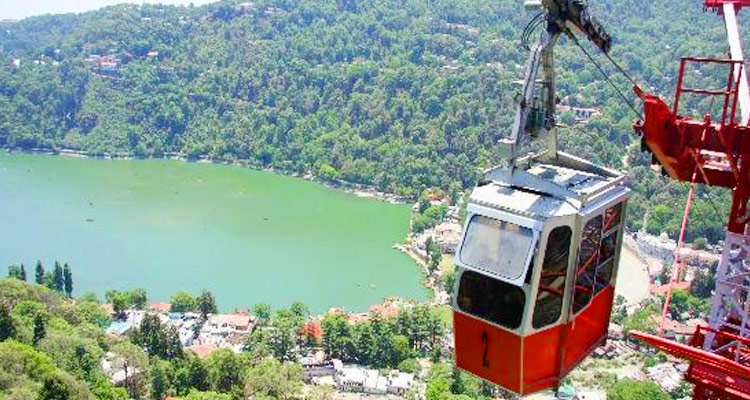 A gorgeous ropeway that runs from Mallital to the top of the hill, the aerial ropeway is a must visit for tourists exploring Nainital. The beautiful view of the Naini lake while going in the ropeway is absolutely fantastic.
The price for the trip is Rs. 300 for adults and Rs. 200 for children and operates from 10 am to 4 pm every day. Once on top of the hill, you can spend time eating knick-knacks or playing a few games. A short walk up the hill will take you to the point where you can see mountain peaks with the help of telescopes.
A definite one-time experience, the aerial ropeway is a memorable addition to your trip to Nainital.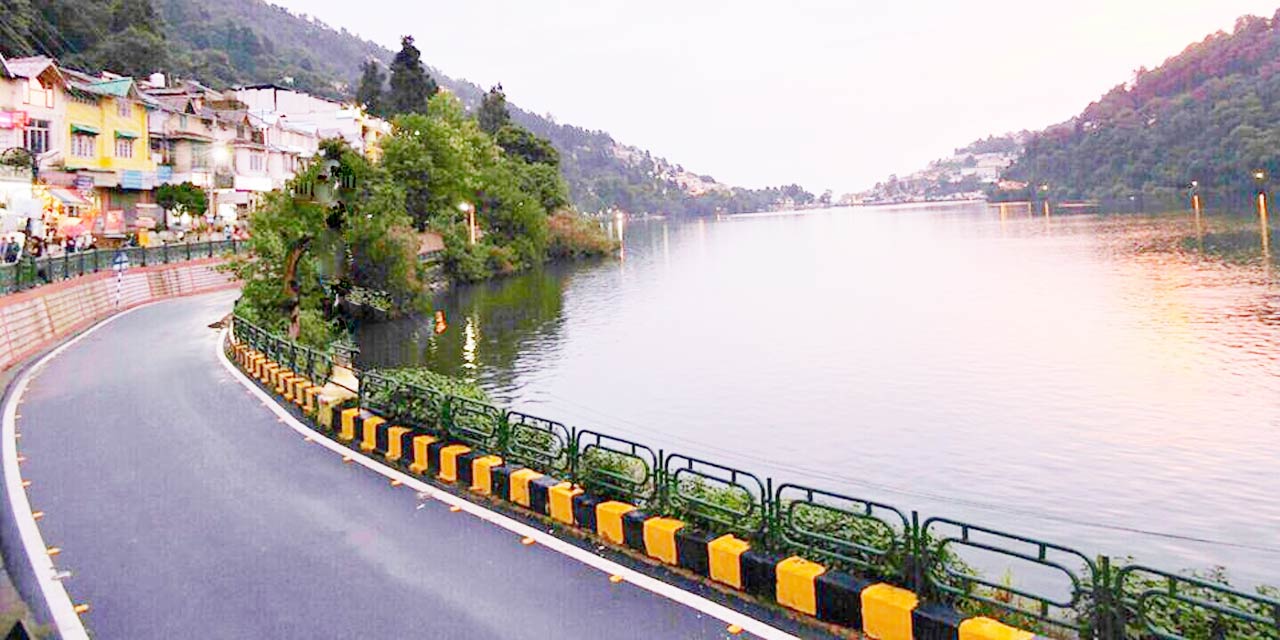 The famous Mall Road of Nainital is located around one part of the Naini Lake. With multiple shops thronging the roadside, you can expect to shop for souvenirs from the city to scented candles of different shapes and sizes, bronze and wood decorative items, handmade handlooms and shawls, handicraft items, amongst others right here.
The Mall road runs from Mallital to Tallital, connecting the main ends of the city. A commercial hub for every trader in Nainital, there is something for every person to shop, eat or even just take a stroll along the river.
The shops are open from 9 am to 10 pm every day.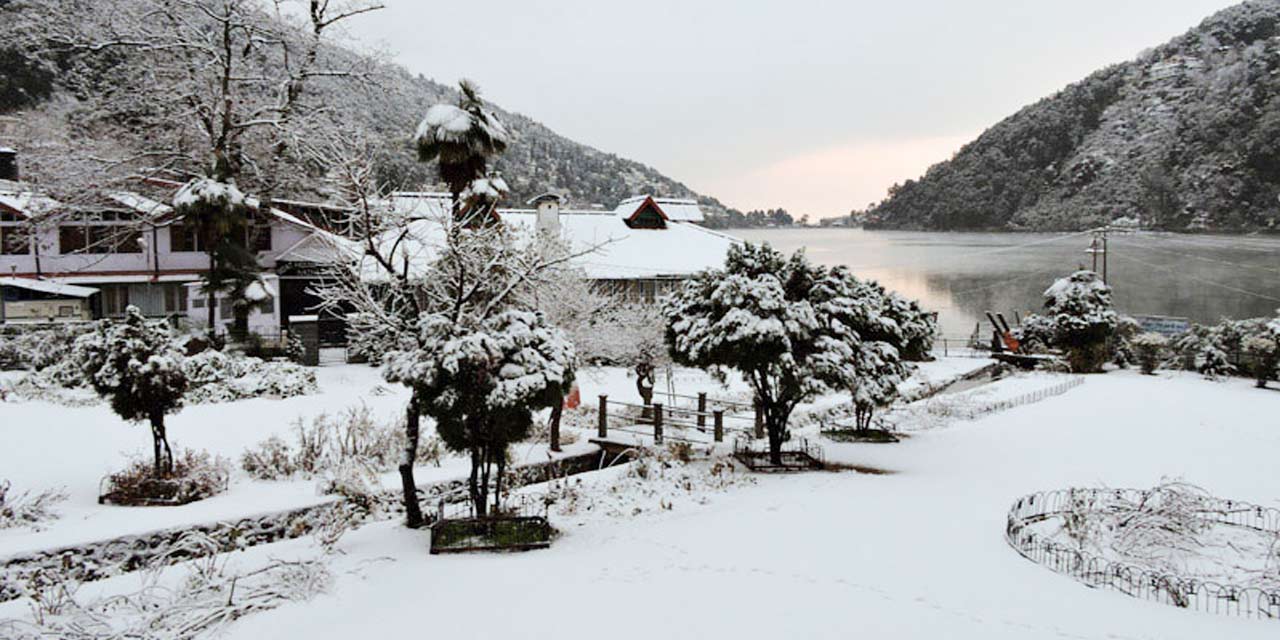 A gorgeous view of the Nanda Devi peak awaits you at Snow View Point. Situated a little away from the main city, approximately 2 kms., visitors can get an enchanting experience of the snow-capped Nanda Kot Peak, Nanda Devi Peak and the Trishul peak.
Snow view point is a perfect place to spend some excellent time soaking in the fresh air and sipping on hot tea with snacks. You can also visit the small temple located at the Snow View Point that houses pictures of Ram, Sita, Lakshman, Lord Hanuman, Shiva and Durga.
If you walk a little further you can also visit a scenic and quaint Tibetan Monastery – Gadhan Kunkyop Ling Gompa.
You can enthral your imagination at the Snow view point with your family and friends. It is open every day from 10:30 am to 5 pm except on Saturdays.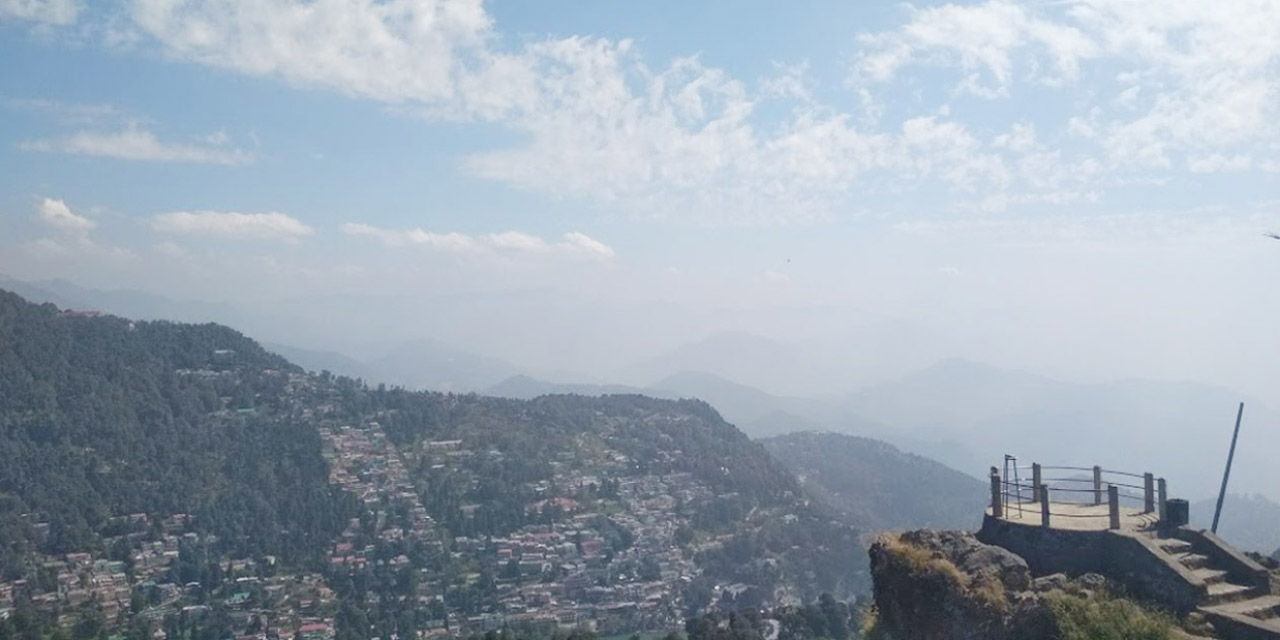 A popular picnic spot and a favourite amongst locals of Nainital, tiffin top also known as 'Dorothy's seat', is located on the picturesque hilltop of Ayarpatta. It not offers an exuberant view of the entire Nainital city but also ensures that you have a moment to capture with gorgeous settings and backdrops.
Away from the bustling streets of the Mall road, Tiffin Top is an absolute delight for avid photographers. With different angles to capture the beauty of the city, the lens can speak louder than words once at Tiffin top.
#Trivia: Dorothy's seat was built by a British Army Officer in memory of his wife, an English artist, Dorothy Kellet. She died from Septicaemia aboard a ship bound for England to be with her four children. The officer was Col. J.P. Kellet, a DSO MC from the City of London Regiment.
You can take a pony ride up to Tiffin top or hike to the top of the hill to enjoy a birds eye view of Nainital. Pony rides can cost anywhere between Rs. 500 to Rs. 700 per person approximately for a round trip of this scenic location. It is accessible to tourists every day from 8 am to 5:30 pm.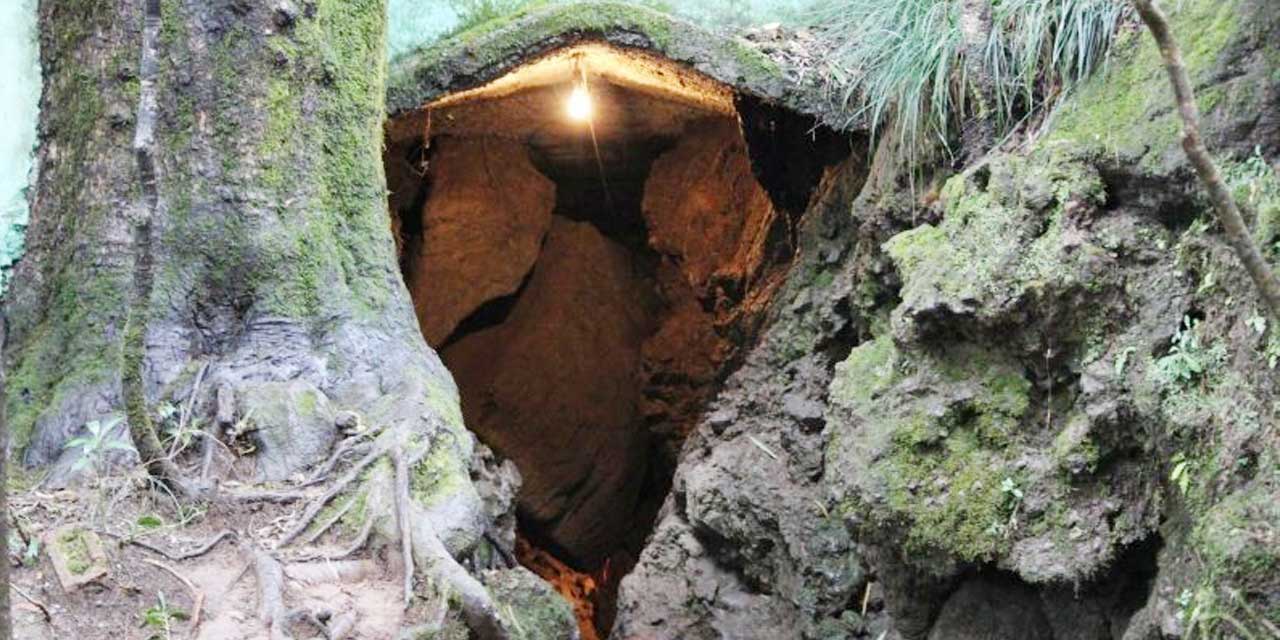 An absolutely spectacular new tourist spot developed and maintained by the Kumaon Mandal Vikas Nigam, Eco Cave Garden is a place connected by natural interconnected caves of animals. The hanging garden makes this place even more fabulous to visit and a pleasure to your eyes.
#Trivia: It is made up of several caves of different dimensions that one needs to hike, climb or crawl by to get through.
Some names that children will get enthused by are Tiger cave, bat cave, Panther cave, Flying fox cave, Squirrel cave, and Apes cave. The presence of a musical fountain enhances the experience of these caves manifold during peak season time.
The entry fee for the cave is-
Rs. 60 for adults
Rs 25 for children
Rs. 25 for Camera
The cave is open for tourists every day from 9:30 am to 5:30 pm. You can easily walk to the cave from the main road of the city.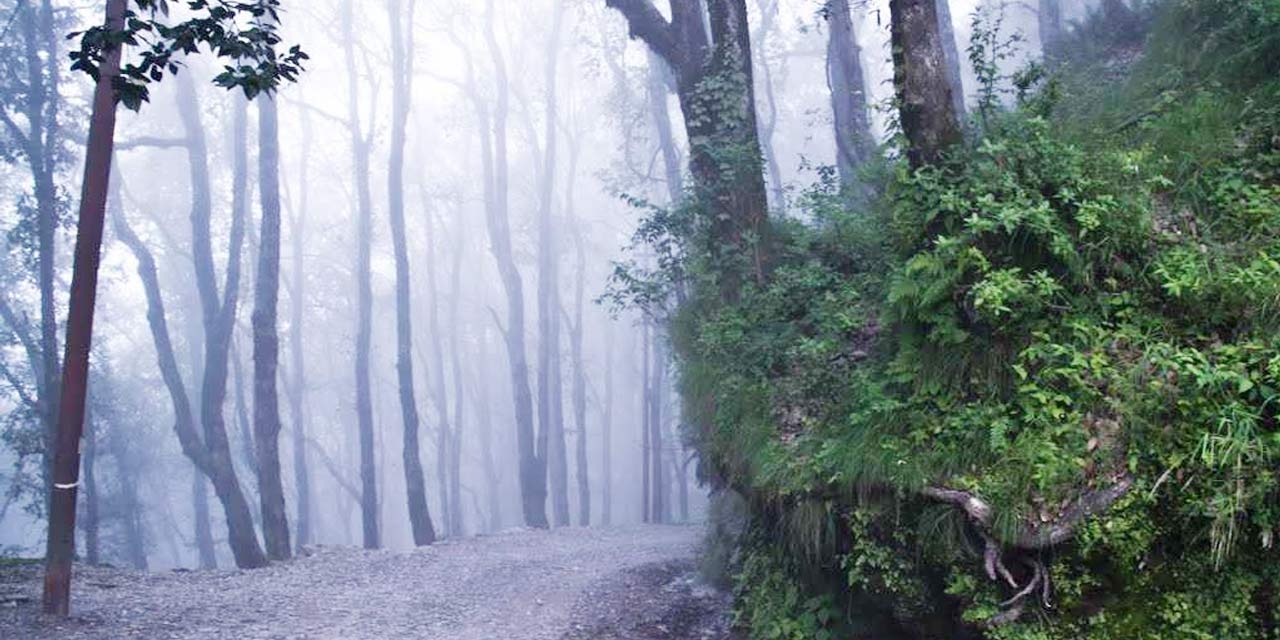 The beauty of the forest captures the lonely eye and sends you in an effervescent tizzy. Kilbury is a must visit for all bird watching enthusiasts and photography fanatics. With a variety of birds thronging the trees and skies, you can experience nature up close and personal.
The Kilbury bird sanctuary of Nainital is located around 14 kms from the main city and is also home to Naina Devi Himalayan Bird Reserve. It is best known for its numerous species of birds along with a woody affair of pines, oaks and rhododendron trees.
Kilbury boasts of having over 500 varieties of birds including Forktails, Collared Grosbeaks, White-throated Laughing Thrushes, Brown Wood-Owls, and many more amongst others. These can be easily spotted with the naked eye.
Spot your favourite birds or simply gorge on the massive landscape and beauty that is so beautifully presented in a picture perfect sphere of Kilbury bird sanctuary.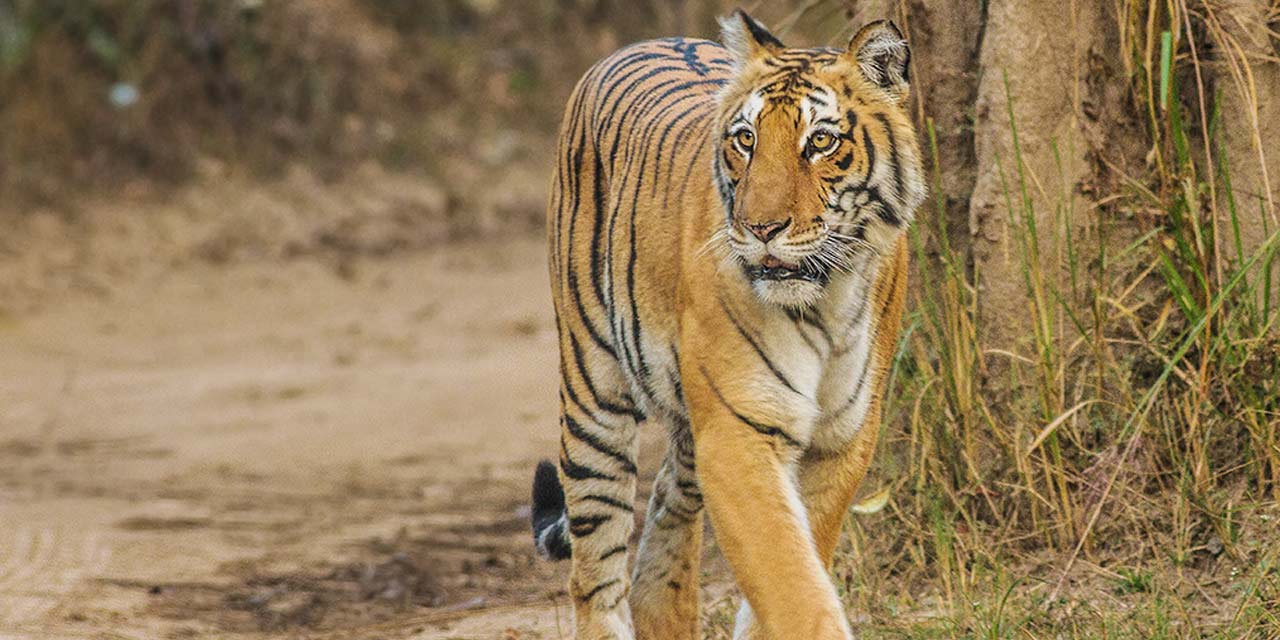 A famous tourist spot of Nainital, Sonanadi Wildlife Sanctuary derives its name because of the gold panning that was carried out in the river before it was converted into a sanctuary. It is conveniently nestled between two grand sanctuaries viz. Rajaji National Park and Corbett National Park.
The sanctuary comprises of two main sparkling streams named River Palain and River Mandal. The forests exude the grandeur of Bamboo, Sal and Sheesham trees, leaving the avid traveller bespectacled. It can be accessed from Kalagarh, Vantanvasa gate, Durgadevi and Kotdwar.
The wildlife sanctuary, founded in 1987, is a haven for a variety of flora and fauna from Asiatic Elephants to Tigers, Cheetals to Leopards, Deers and different species of reptiles. It also has as estimated 550 types of birds dwelling in the forest.
#Trivia: The Sonanadi Wildlife Sanctuary is said to hold 6% of the world's total aviary population. It is also home to the second largest population of Panthers and Tigers in the world.
From rare medicinal plants to a couple of endangered shrubs and herbs, Sonawadi is a wildlife enthusiasts paradise. The sanctuary is open from October 15 to June 15 and closes during monsoons.
Safari timing:
Winter safari: 7 am to 10 am and 2 pm to 5:30 pm.
Summer safari: 6 am to 9:30 am and 3 pm to 6:30 pm.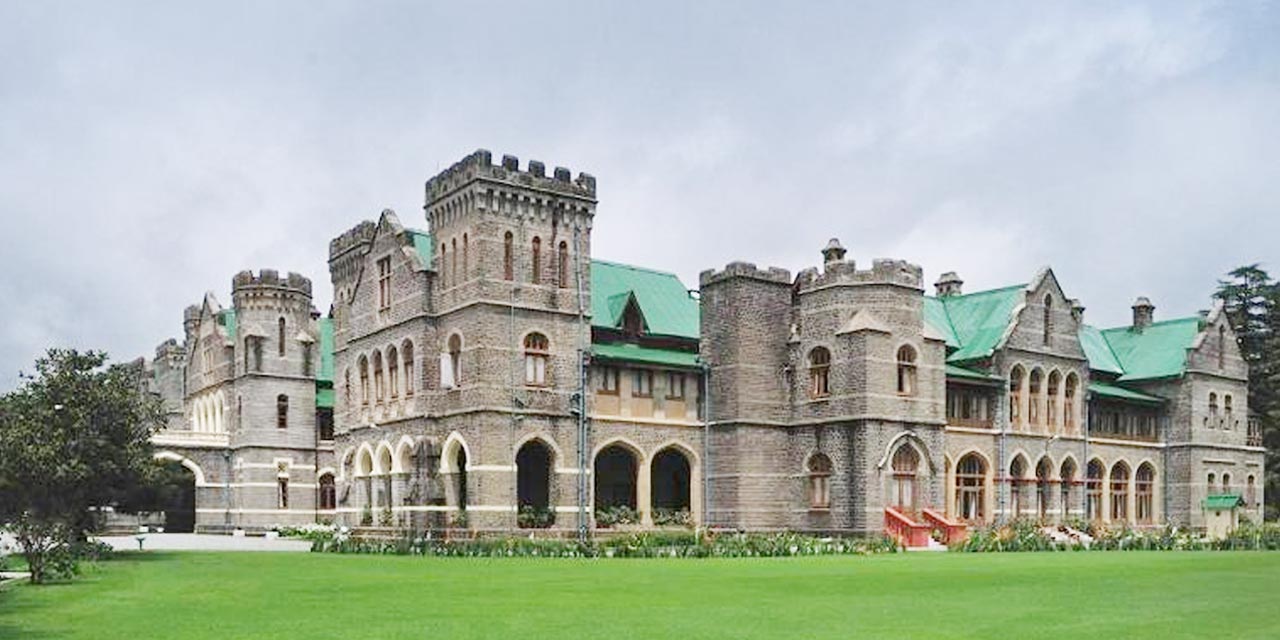 This gorgeous British era house is home to the Governor of Uttarakhand and it is known for its charming magnificence that transcends you back in history.
Raj Bhawan in Nainital is a two storey building comprising of 113 rooms and was used by the British as their summer residence. The architecture of the building emulates a mixture of Gothic style, a close replica of the Buckingham Palace.
#Trivia: It was built by British architects and planners F.W. Stevens along with H.S. Wildeblood and F.O. Oertel. Completed between 1897 to 1900, Raj Bhawan is a spectacular work of art that now houses a gorgeous landscape, swimming pool, golf course and a lush cover of Oak and Deodar trees.
Entry tickets for Raj Bhawan – Approx. Rs. 50 per person.
Entry tickets to Raj Bhawan with Golf Course – Approx. Rs. 450 per person.
The timings to visit Raj Bhawan is –
March to April- 8 am to 5 pm
May to August- 8 am to 6 pm
September to October- 8 am to 5 pm
November and December- 8 am to 4 pm
It is closed for general public and tourists on all public holidays and Sundays.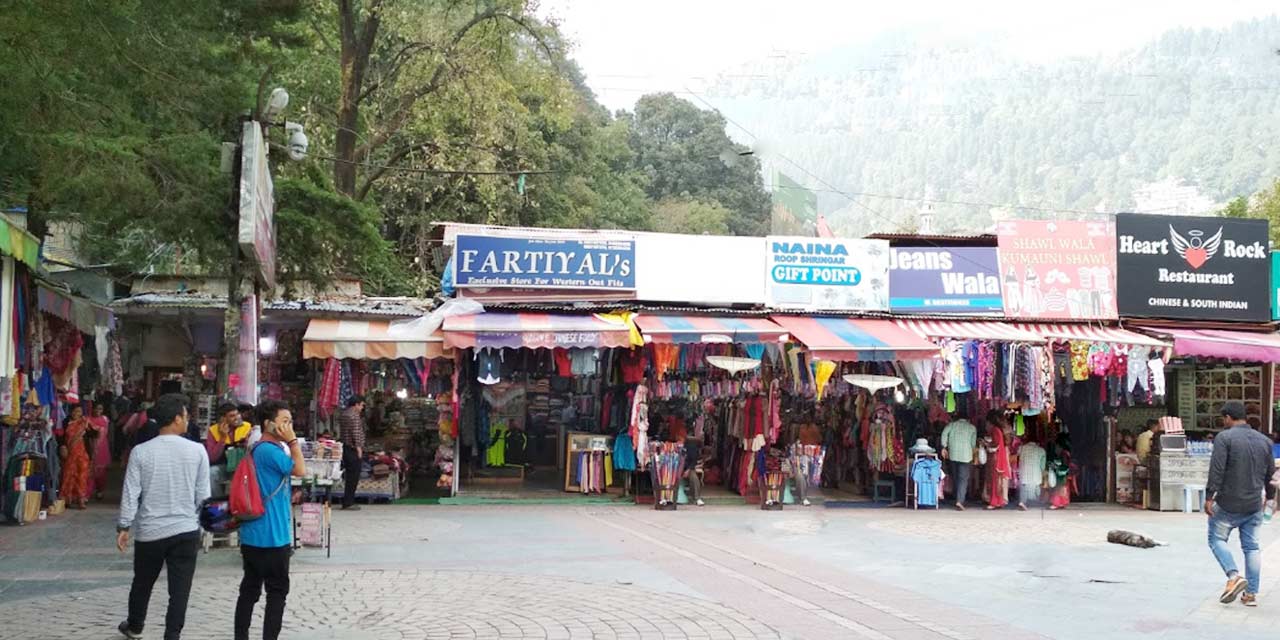 The Tibetan Market is located at one end of the Mall road and is famous for its different Tibetan goods from clothes to warm handmade woollens.
This popular flea market is thronged by tourists all year round and has a wide range of Tibetan goods for sale. If you are good at negotiating, don't miss out on the fun of bargaining, but within limits. This is after all their primary occupation.
Tibetan bags, textiles, intricately designed shawls, ethnic dresses, junk jewellery, etc. are some popular items sold at the market. Affordable shopping coupled with retail therapy gets the best of all shoppers right at this market. Indulge in popular souvenirs from Nainital, making this vacation a wholesome experience.
It is open from 9 am to 10 pm every day.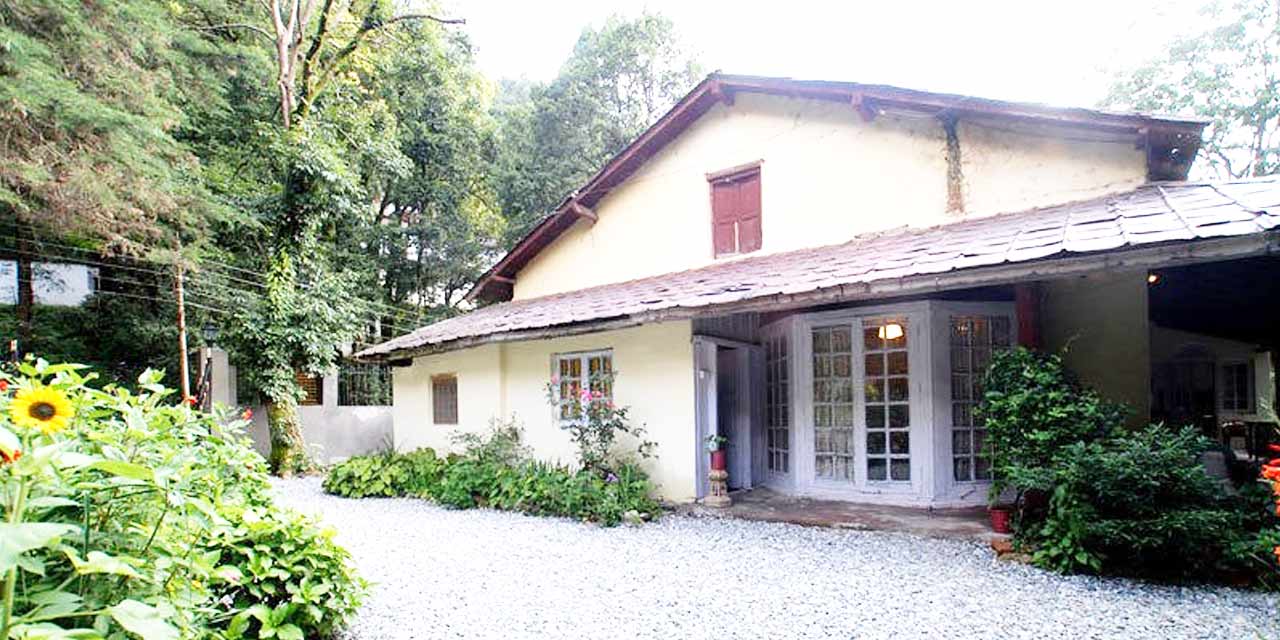 Located in the scenic Ayarpatta slopes of Nainital, this gorgeous heritage property is just a few minutes away from Naini Lake. It was home to the world-renowned hunter and nature conservationist Jim Corbett. Its old world charm simply captivates the heart and soul of every visitor looking for some peace and quiet.
Although this is a private house now, but tourists can take prior appointment to visit this heritage property. The house still holds many of Corbett's possessions and brings his writings back to life.
The massive property is surrounded by lush greenery on all sides and can be visited all days of the week from 8 am to 5 pm.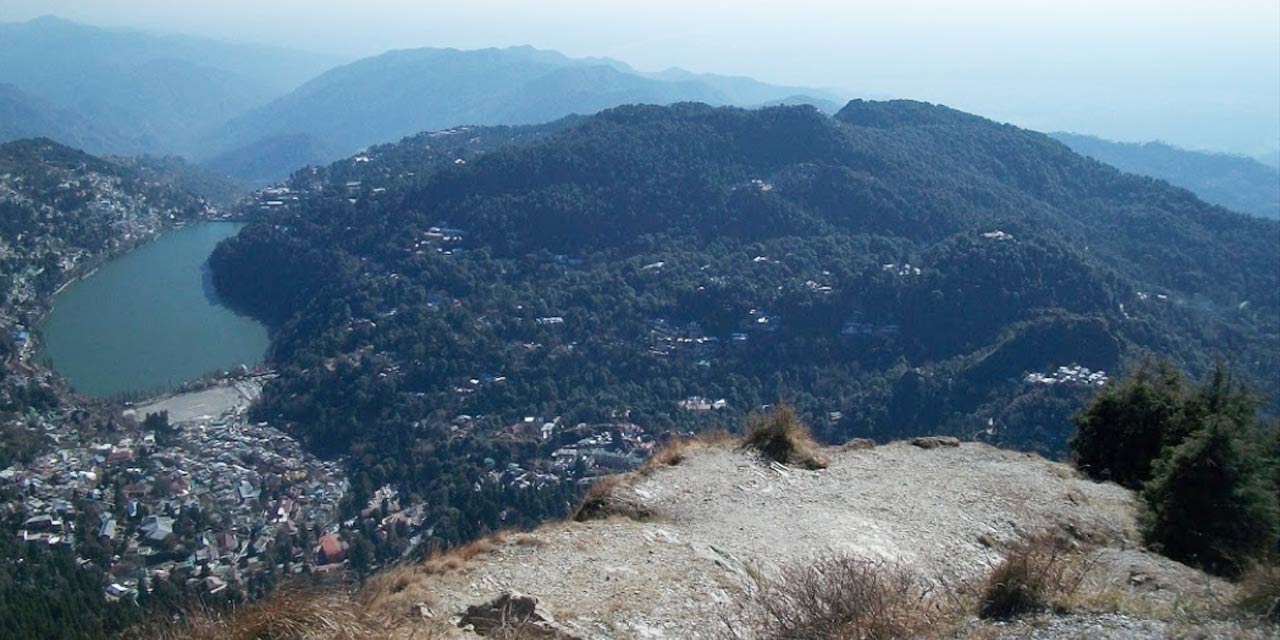 The highest hill top and one of the most popular tourist spots in Nainital, Naina Peak is a beauty that unfolds through the mirage of clouds. It is also called as Cheena Peak or China Peak by the locals here.
#Trivia: You can see many people embarking on short hikes to the peak during your visit to Nainital.
It offers a birds eye view of Nainital and the vast expanse of the Kumaon hills. Soak in a breath of fresh air at the very top of this peak and fill in your senses with beauty that nature has to offer.
It is open every day from 8 am to 5:30 pm. Get the full view of the city and enjoy your time hiking to this gorgeous peak.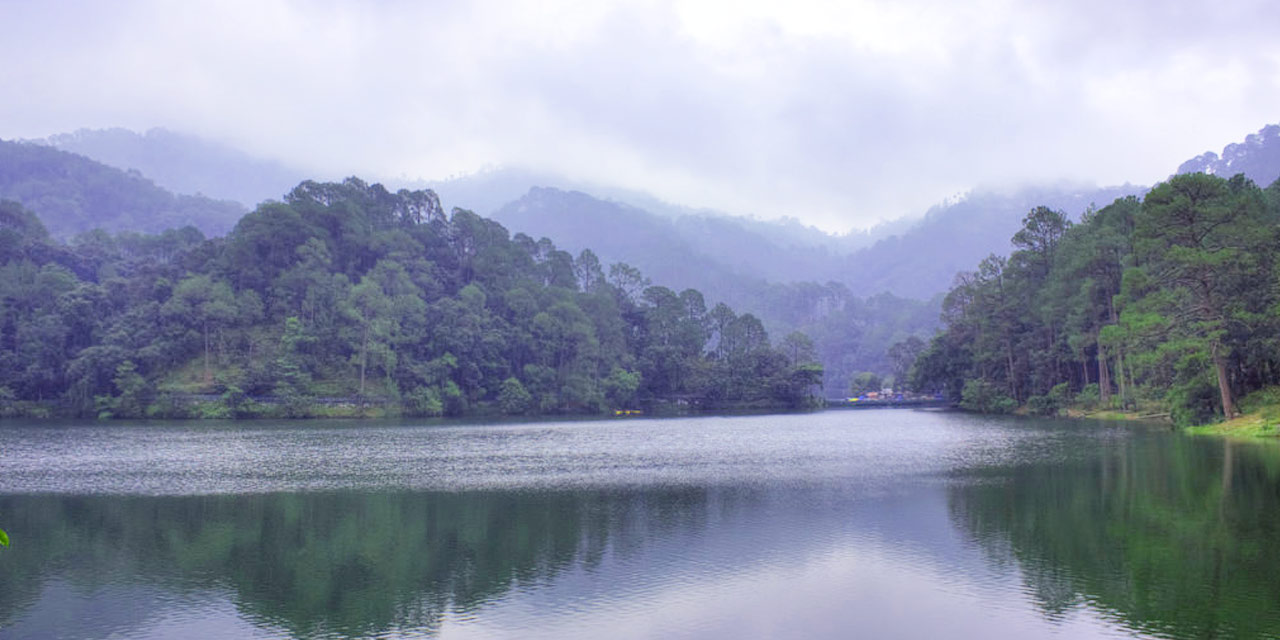 An absolute travellers delight, Sattal or Seven Lakes, is an interconnected group of seven freshwater lakes that converge in the lower Himalayan range near Bhimtal. These lakes are a bird watchers fantasy as you can see many migratory birds camping right here.
#Trivia: One of the few pristine and untainted freshwater biomes of India. Garud Tal, Purna tal, Nal-damyanti tal, Ram tal, Sita tal, Sukha or Khurdariya tal and Lakshman tal are the seven lakes of Sattal. Subhash Dhara is the fresh water spring originating from the dense oak forest of Sattal.
The biological diversity of Sattal makes it a paradise for bird watchers and avian fauna. The lake also holds many varieties of fish and butterflies. Tourists can also visit the famous butterfly museum built by Frederic Smetacek at Jones estate that houses over 2500 different species of gorgeous flying beauties as well as over 1100 varieties of insects.
It is located around 30 minutes from Nainital city.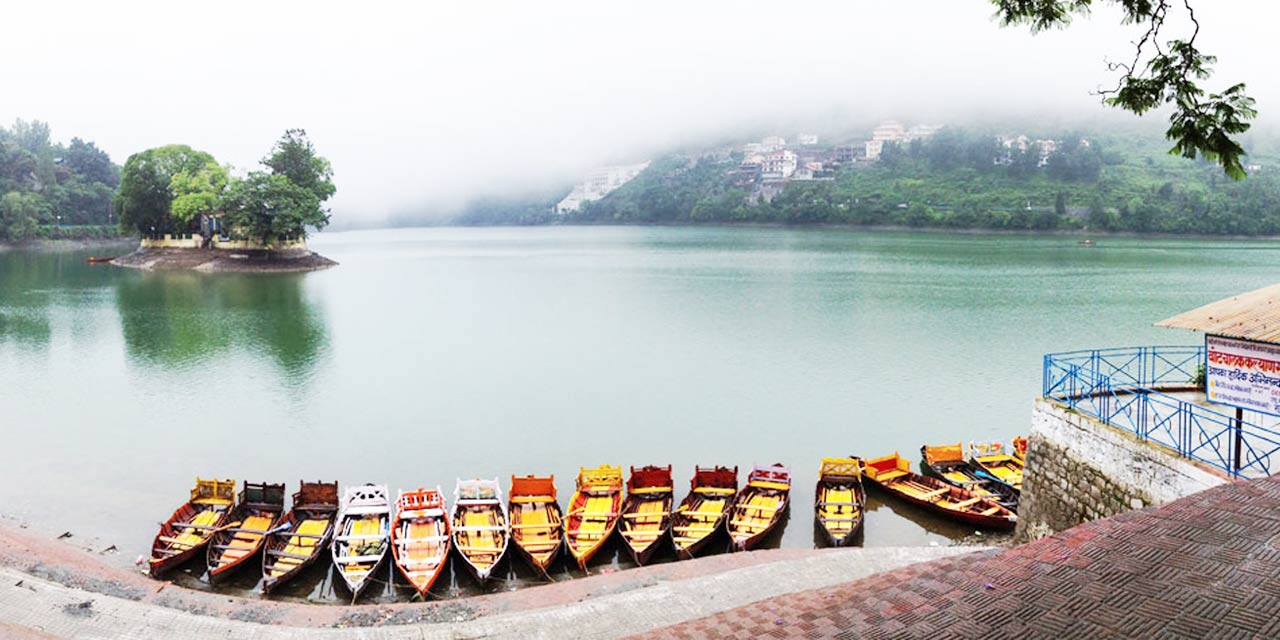 Located around 22 kms from Nainital city, Bhimtal is yet another tourists fantasy that boasts of scenic beauty and its pristine lake. Bhimtal lake is located in the center of the town and also has an island in the middle.
#Trivia: Bhimtal is said to have been named after Bhima of Mahabharata.
Bhimeshwara Mahadev Temple is said to have been built by Bhima when he visited the place during his vanvas or banishment period of the Pandavas.
Few spots to cover while visiting Bhimtal include Victoria dam, Bhimtal lake aquarium, Sayad Baba ki Mazar, Hidimba parvat, Nal Damyanti Tal, amongst others. All of this can be easily covered as part of a day's excursion from Nainital.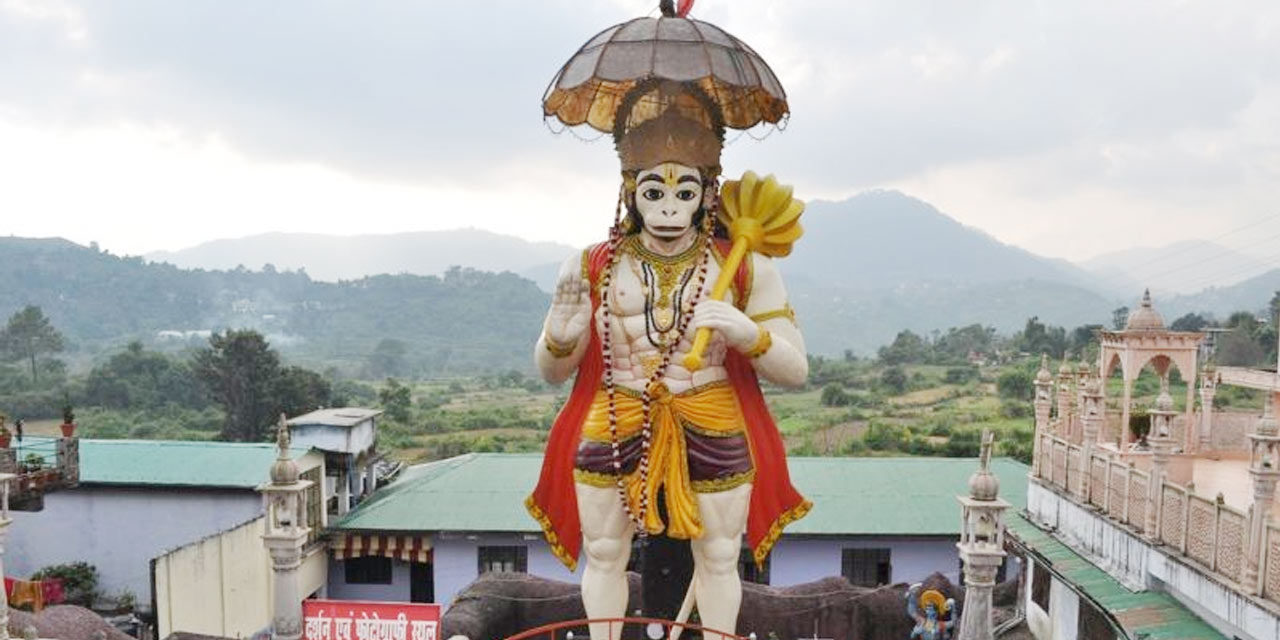 This famous temple dedicated to Lord Hanuman is located around 3 km from Nainital. The standing structure of the Lord exudes sanctity that cannot be described in words but only felt once there.
The temple was officially built in 1950 by Neem Karoli Baba and is located on the South side of Tallital. The idol is seen splitting open his chest with the image of Lord Rama shown as residing in his heart.
The best time to pay obeisance is during sunset when the sun's rays slowly glides off the immense idol that leaves us looking at unwavering silhouette of the orange and blue sky. It is most crowded on Tuesdays and Saturdays, the days of the Lord.
There are two other holy institutions located in close proximity to the temple – Ashram of Lila Sah Bapu and Shitala Devi temple.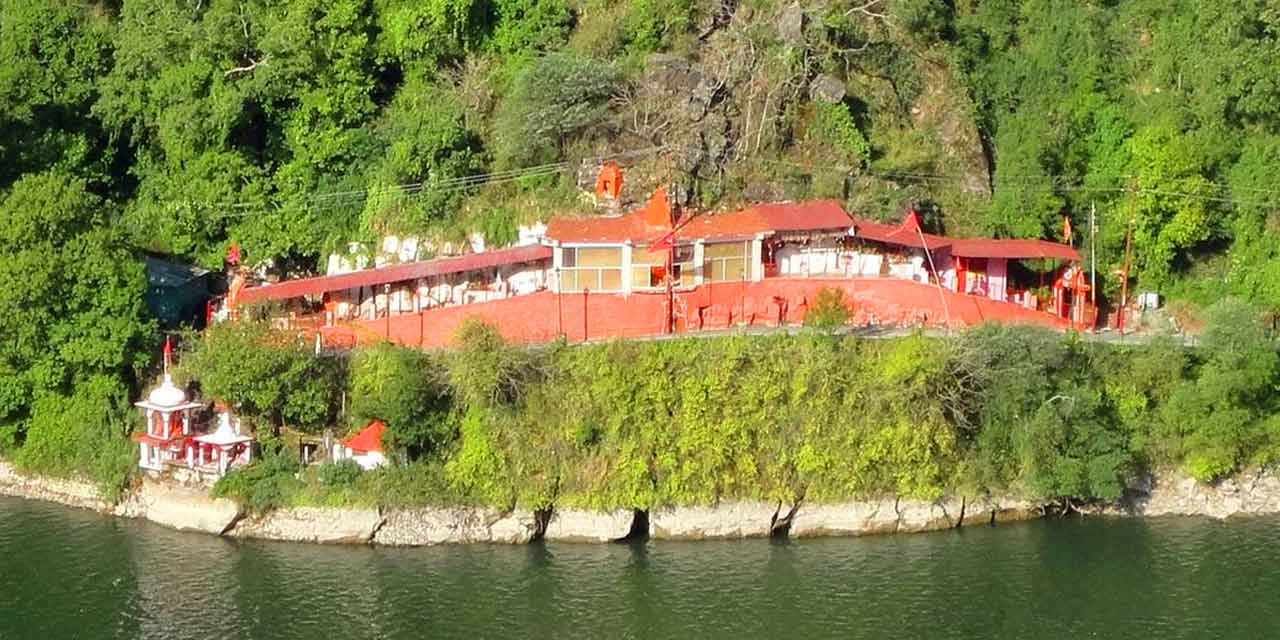 Pashan devi temple is one of the many auspicious shrines located in the city of Nainital. With unwavering belief in the miracles of the Goddess, this shrine holds a strong devotee base. The Goddess of Stone-pelters, Pashan Devi is worshipped as the representation of the Nav Durga or Nine incarnations of Goddess Durga.
A complete stone structure, the Goddess is also worshipped in the form of a stone here. It is one of the oldest temples of the region and holds great significance on important occasions and festivals.
The Akhand Jyot or the Eternal Flame has been lit since the time of its formation.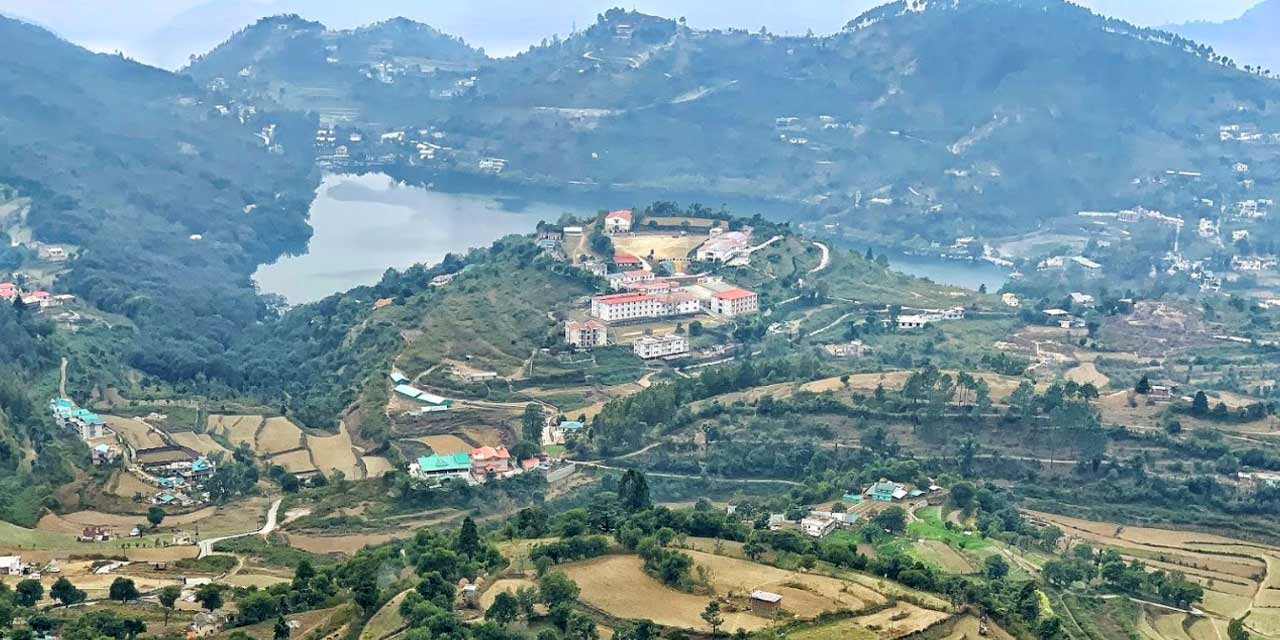 The 'lake of nine corners' or Naukuchiatal is a small hill station located approx. 30 kms from Nainital, taking you around an hour to reach here through winding roads. Surrounded by rich shrubbery and trees, this is the deepest of all lakes in the Nainital region.
Tourists can spend a day exploring the vivid sights of this quaint hill station and enjoying different outdoor activities such as parasailing, rowing, fishing, yachting, or even paddling.
#Trivia: A well-known myth says that anyone completing the parikrama of the lake in one go will be blessed by Lord Brahma eternally.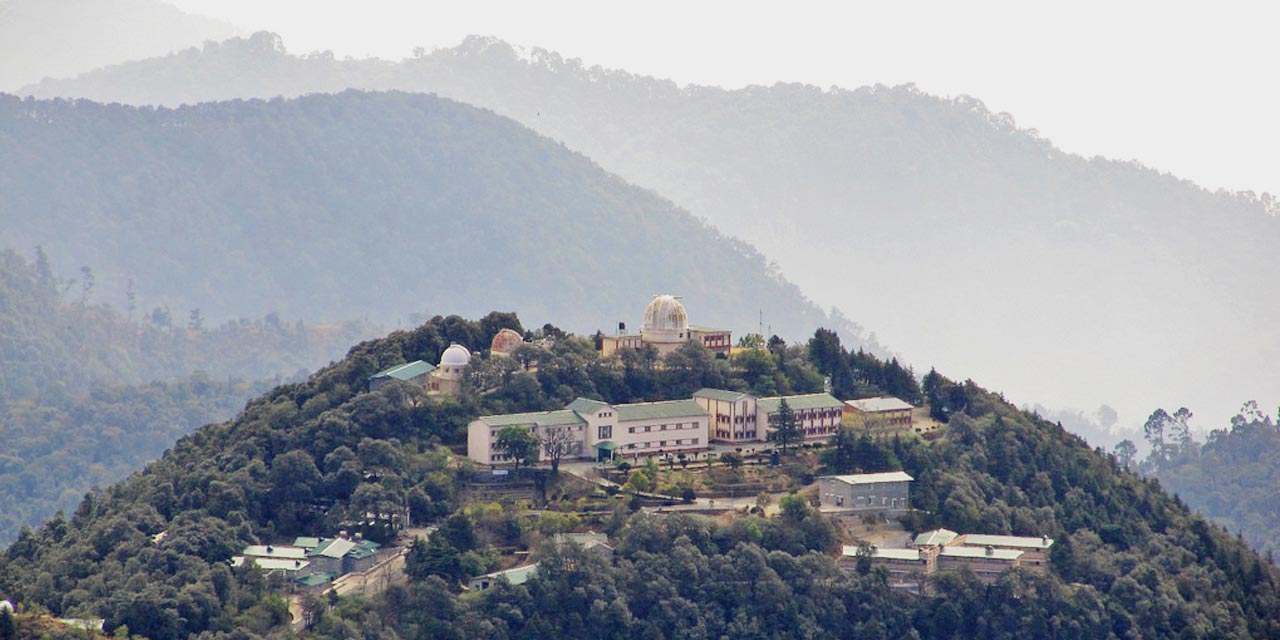 A leading research institute based in Nainital, ARIES specializes in Astronomy, Atmospheric Sciences and Astrophysics. Situated on Manora Peak, it is an autonomous body under the aegis of the Department of Science and Technology, Government of India.
The astronomical observatory is open to the general public and tourists during all working days on afternoons. However, if you are looking at engaging in a spectacular experience of starry nights, you will need to take prior permission from the institute. There are only 3 to 4 moonlit nights fixed for this special viewing.
The ginormous telescopes and the beautiful views set your imagination in motion at ARIES. A power packed time with your family, especially kids, can help you learn more about our universe and its different secrets right here.
It is open from 2 pm to 4 pm every day except Saturdays and Sundays.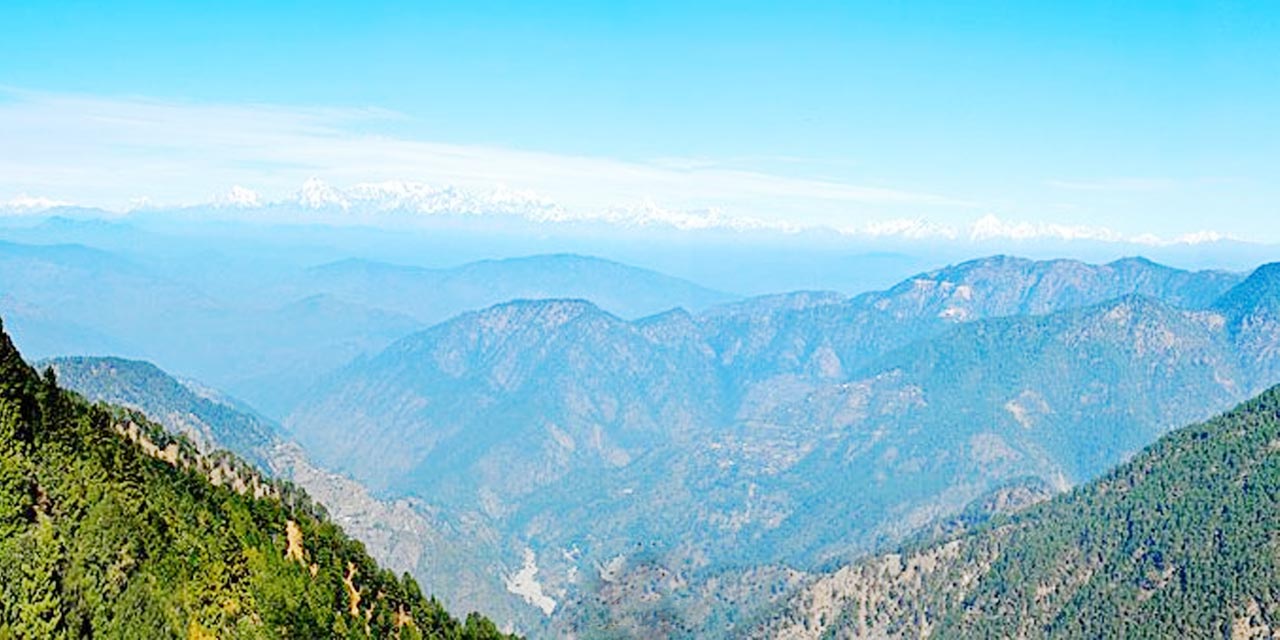 The gorgeous hills give you a spectacular view of Nainital, overlooking the Naini Lake right at the centre. The long line of green escapades crouched on both sides of the lake along with the clear blue skies are a perfect way to spend a cool afternoon holidaying at Guano Hills while in Nainital.
The walking trail takes tourists to the forests comprising of Oak, Deodar and Bamboo trees. The hills present a lot of endangered flora along with bird species like grey woodpeckers, black-chinned babbler, etc. An idyllic spot for photography lovers, Guano Hills is a sightseers paradise.
It is open every day from 8 am to 6 pm and is known for its trekking and walking nature trails.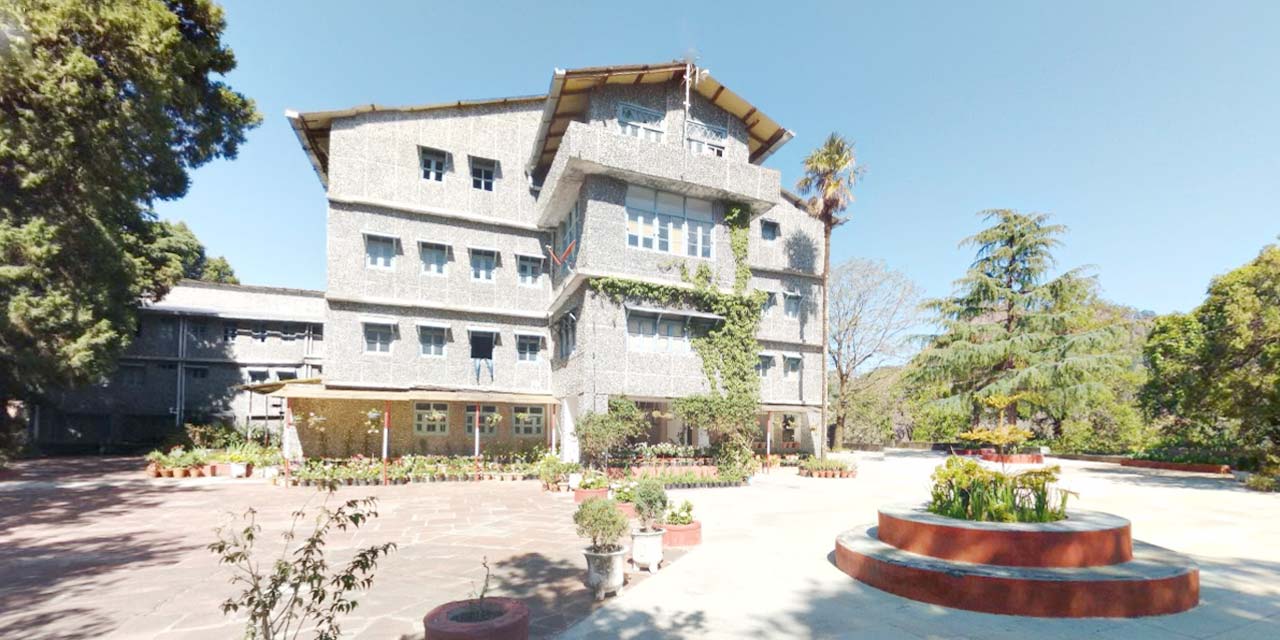 A peaceful and serene place, the Himalayan Centre of Sri Aurobindo Ashram in Nainital boasts of tranquillity and poise. The ashram offers the perfect respite from daily chores and routines to help calm and relax our minds through yoga and meditation.
The ashram is a branch of Sri Aurobindo Ashram of Puducherry and is spread over 4 acres of lush green escapades. There are various activities for visitors that can be enjoyed along with arrangements of staying right here. From imparting discipline in time management to stress management, physical and mental exercises, there are a lot of activities that can be experienced at the ashram.
It does not have an entry fee to take a look around but is open every day from 6 am to 6 pm.
Get in touch with your inner self by indulging in mindful meditation at the ashram.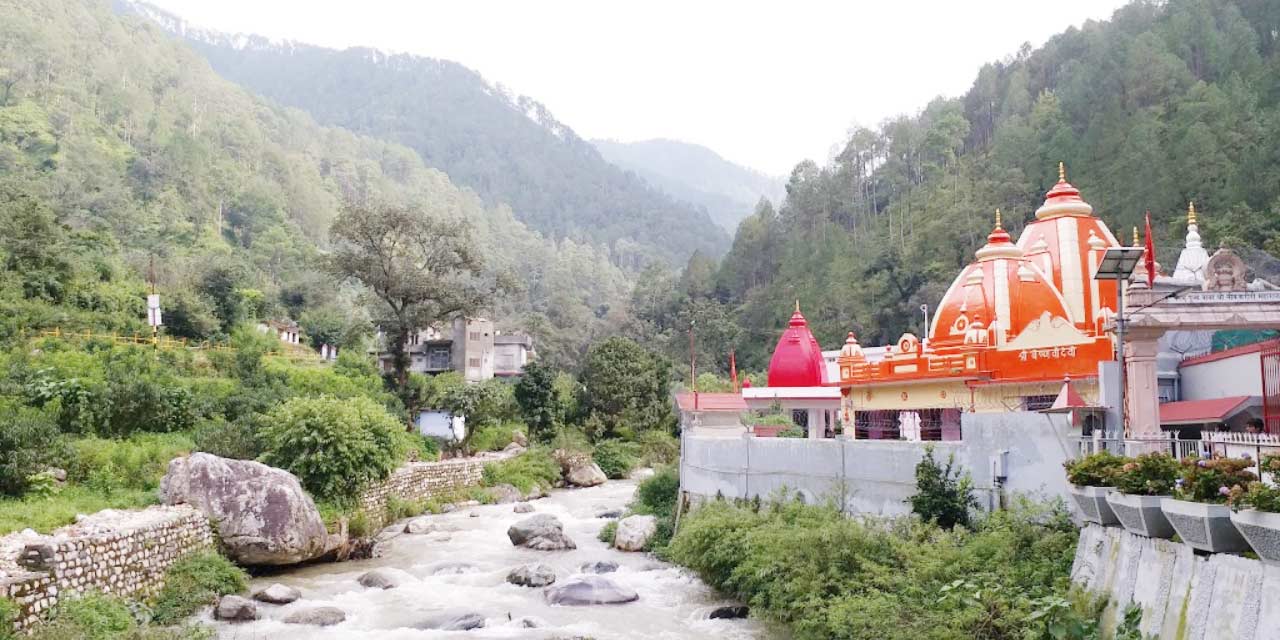 Located on the Nainital-Almora road, Kainchi Dham is a modern pilgrim centre approx. 17 kms from Nainital. Its tranquil setting amidst the rocky mountains and lush deodar and oak trees makes it a must visit while exploring Nainital.
Kainchi here means two sharp hairpin bends of the motor road in the local dialect. It has no correlation to scissors. It was founded by the famous Maharaj Neem Karoli Baba in 1962. The faith and reverence in the temple and its founder has transfixed devotees for decades and the fervour is still visible even today.
The entire aura at Kainchi Dham reverberates with positivity and optimism. The chants of Lord Hanuman and Lord Rama come alive every day, making visitors feel calm and welcome.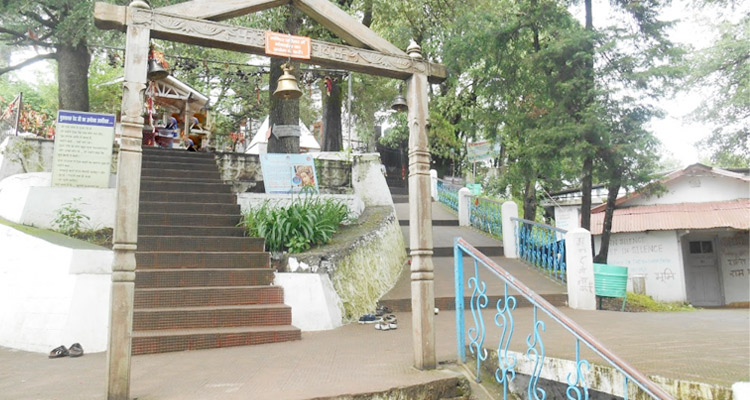 Dedicated to Lord Shiva, Mukteshwar Temple is located around 50 kms from Nainital and is one of the 18 most important Shiva temples in the country. The architecture of the temple is simple, comprising of stone stairs that lead up to the deity's divine abode. The temple is also home to idols of Lord Vishnu and Lord Brahma.
The Shivling is made of white marble with a copper yoni treasured within the temple premises. The town derives its name from the temple and has stood the test of time for nearly 350 years.
The picturesque surroundings and lush greenery present a beautiful setting, capturing the essence of the temple and leaving you feeling absolutely at peace.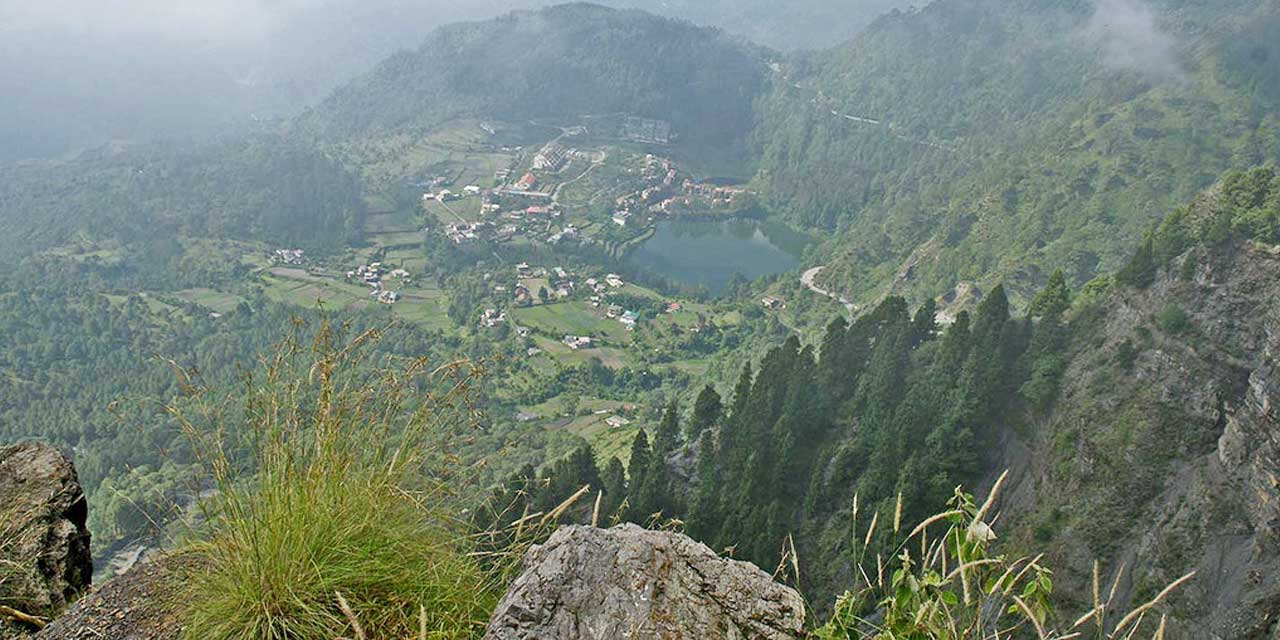 For those who seek adventurous experiences, Land's End proves to be the ultimate experience. Literally meaning the end of the land, there is nothing but a cliff beyond this point. You can overlook Khurpatal and the surroundings valleys and mountains from this cliff.
It is best to trek or take a hike to the location to soak in the panoramic view of the surroundings. You can also take your car at a little distance and walk the rest of the way. Land's End provides a breath-taking view of the incredible snow-clad mountains and the beautiful lakes perched below and at a distance.
Explore the natural realms of Nainital by visiting Land's End while exploring the hill-station.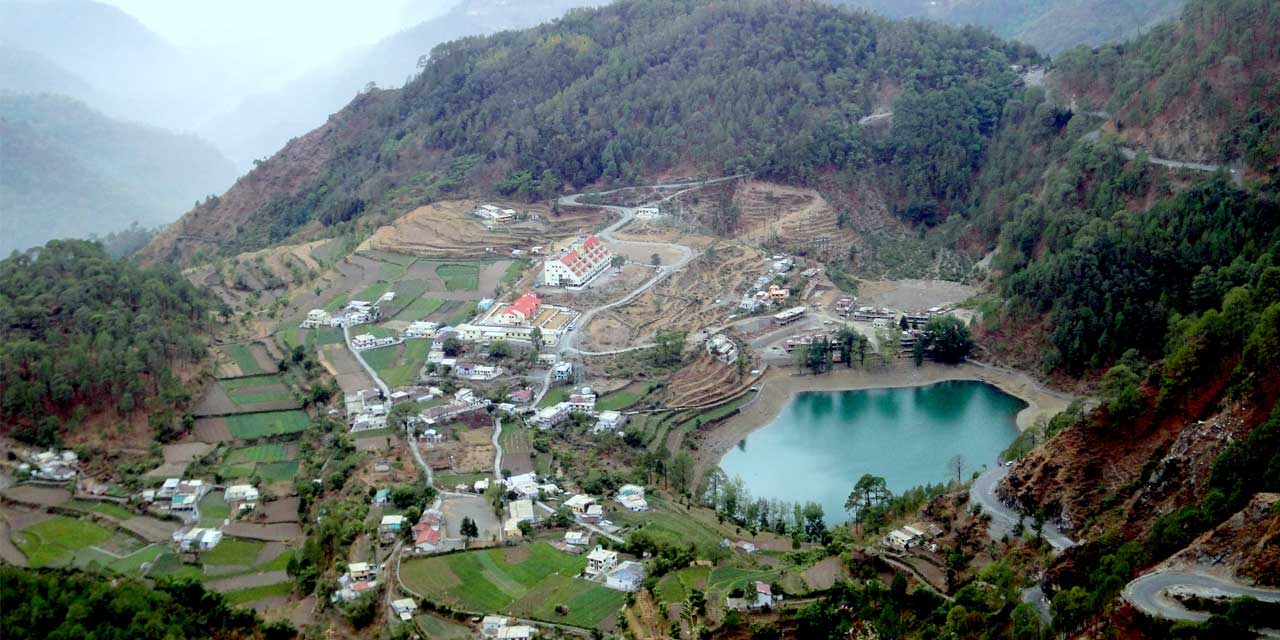 This gorgeous emerald lake is the pride and shine of Khurpatal in Nainital. Cradled amidst old Cedar and Pine trees the entire vista of the lake is absolutely mind-blowing. This beautiful place is just 12 kms from Nainital and can be easily reached by taxi or your own car.
For the avid photographer, the reflection of the valley and the stillness of the lake send you in a tizzy. It is one of the most scenic locations of Nainital and is a must visit for all tourists. It is not overly crowded even during peak season and is a great getaway from the bustling Nainital city.
Get exploring at Khurpatal lake today!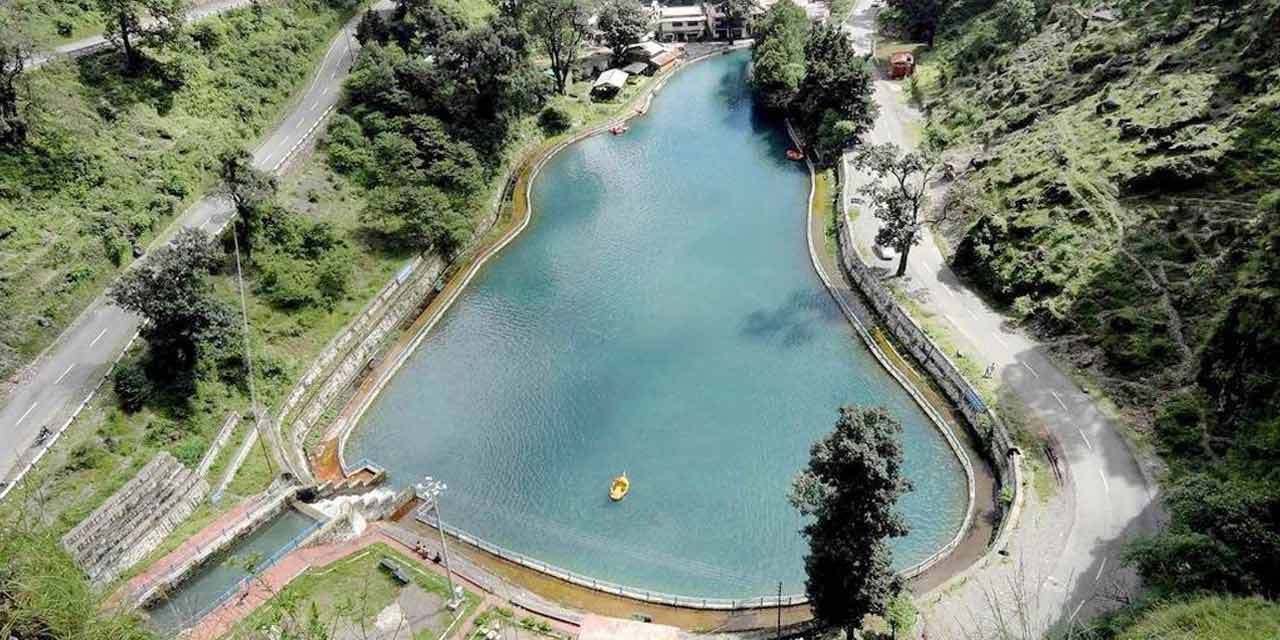 A gorgeous jade lake emulates beauty and serenity, completing the vista of Sariyatal. Also known as Saritatal, it has emerged as a favourite tourist spot amongst visitors, honeymooners and newly-weds alike.
The botanical garden located near the lake is home to a variety of flora that can be enjoyed best by strolling around the garden. With the increase in popularity, water zorbing has also been introduced in the clean water and costs Rs. 150 per adult and Rs. 100 per child. The garden also houses a butterfly park, herbarium, library, auditorium and fernery.
It is located just about 8 kms from Tallital and is open to visitors throughout the year. The entry fee for the garden is Rs. 20 per head and can be visited between 10 am to 5 pm every day.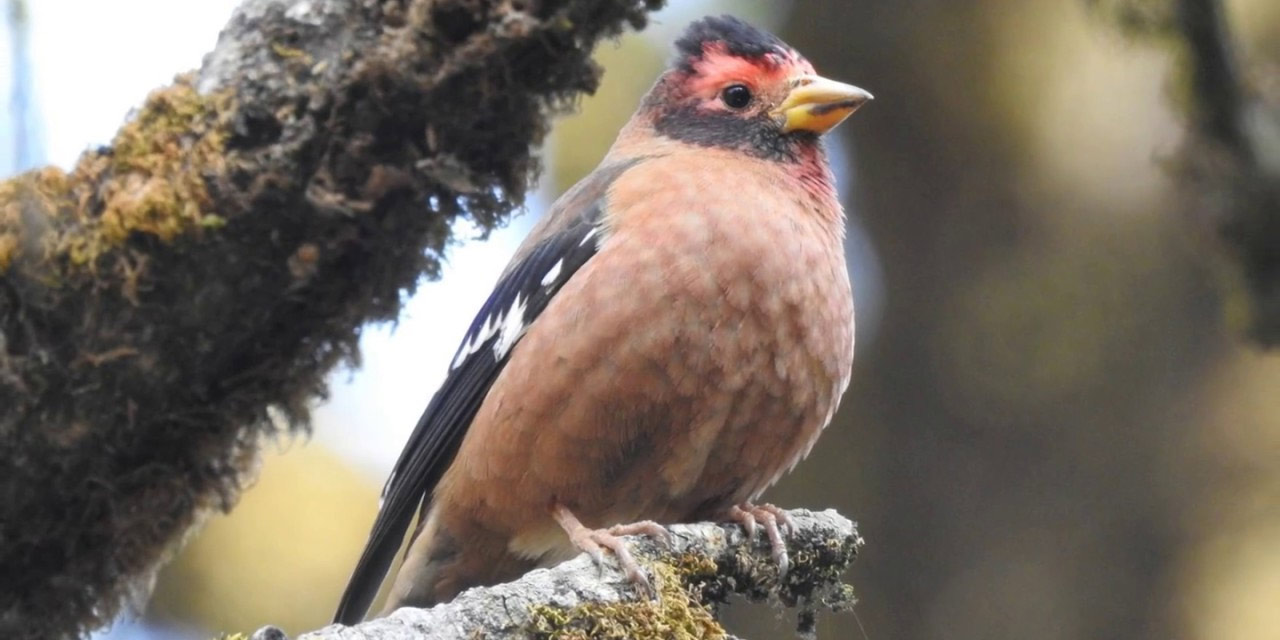 The Naina Devi Himalayan Bird Conservation Reserve, established in 2015, is home to a variety of Mammals and birds in Nainital. From endangered species like bearded vulture to Himalayan Griffin, black-throated tit to yellow-breasted greenfinch, rock bunting to goldcrest, etc. there is a lot of bird watching in store for avid bird lovers and ornithologists.
The avid fauna constitutes the rich haven that the birds can safely call home. A must visit during your stay at Nainital, this reserve is nothing less than heavenly respite from the hustle and bustle of the city.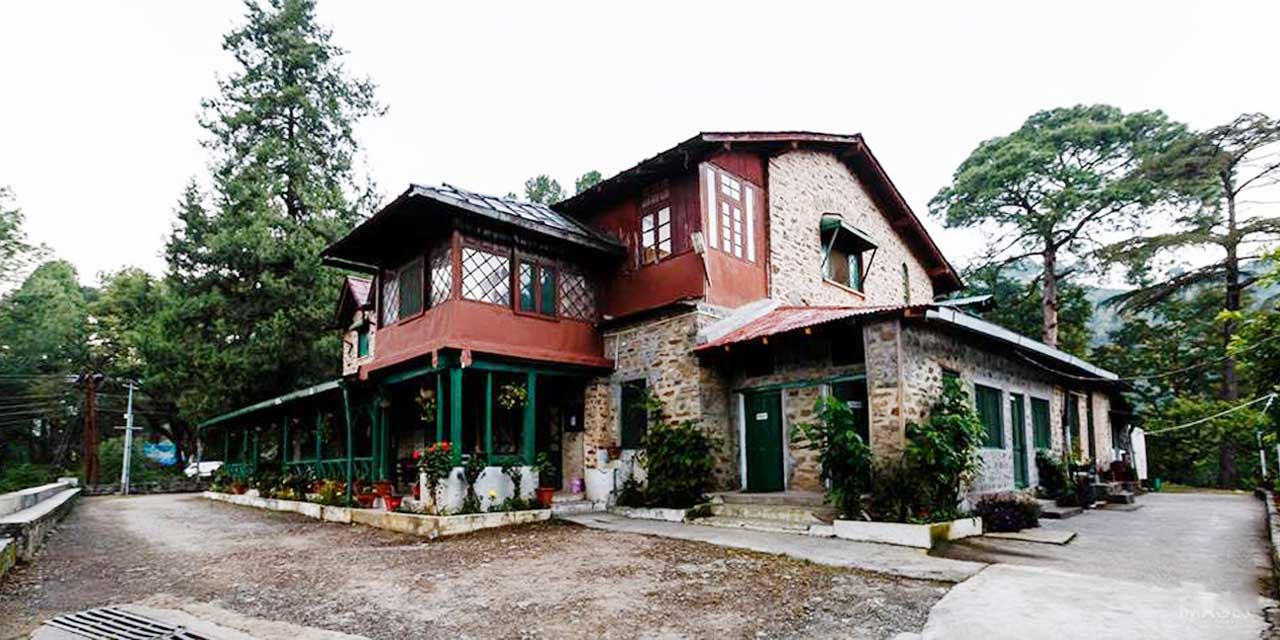 Sattal Christian Ashram was founded in 1930 by Dr E. Stanley Jones along with Miss Ethel Turner and Rev. Yunus Sinha. The main purpose of the ashram is to provide peace and tranquility to the residents and visitors as well as connect with their spiritual side while touring the place.
It offers a serene atmosphere to connect with one's thoughts and exudes an old world charm like none other.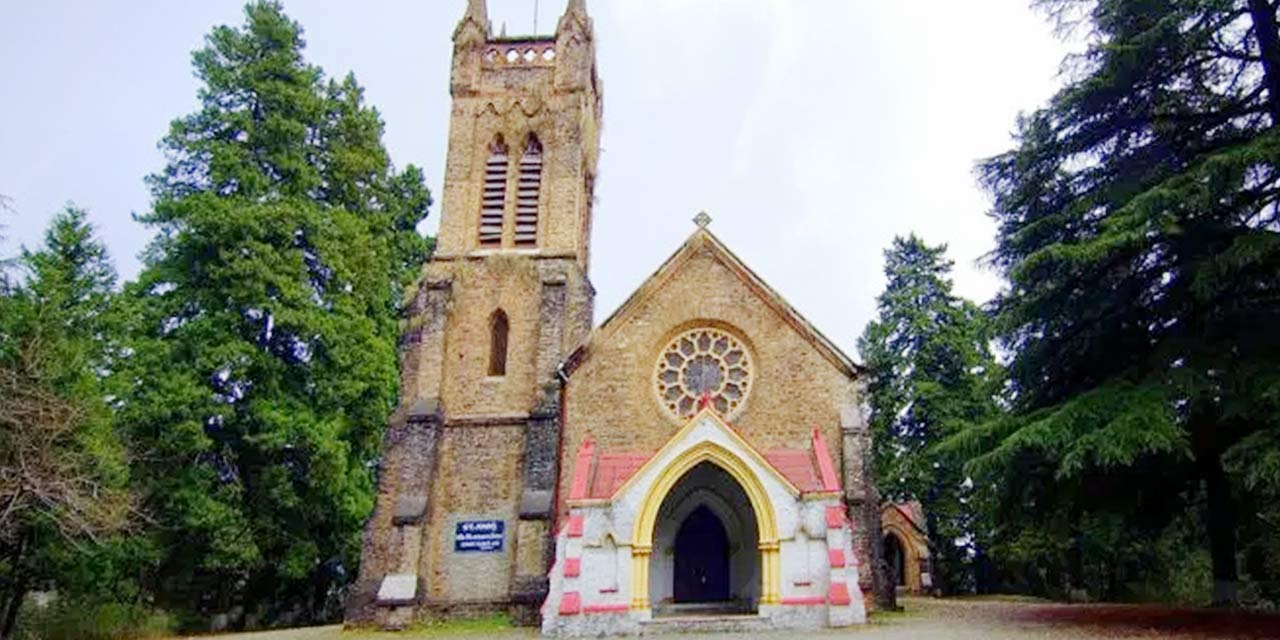 St. John in the Wilderness Church is located around a kilometre from Nainital lake and is one of the oldest churches in Nainital. This Anglican church was constructed in 1846 and is known to be few of the earliest buildings erected in Nainital. The church is open from 7 am to 6:30 pm on all days except Sundays. On Sundays, it is open from 9 am to 6:30 pm. Pay a visit to this wonderful structure while on a tour of Nainital.
A fine escapade awaits you in the realms of this magnificent hill station, Nainital, which boasts of an old-world charm that is still visible through its buildings, architecture and aura.
Book your tickets today and plan a beautiful holiday in Nainital with your loved ones!